High waist to hip ratio more strongly associated with risk of ER- BC
Posted: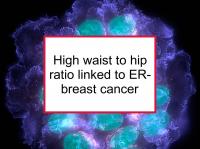 High waist to hip ratio linked to ER- breast cancer
The study included 45,799 women in the Nurses' Health Study II (a group of women who have been followed since 1989). Body fat distribution was assessed in 1993 by self-reported waist and hip measurements and waist to hip ratio. A total of 620 cases of breast cancer were diagnosed between 1993 and 2005 among the study participants.
Overall rates of breast cancer were statistically equivalent among women in the lowest fifth of waist circumference compared to those in the highest fifth. No significant associations were found overall between risk of breast cancer and waist circumference, hip circumference, or waist to hip ratio.
Insulin receptors are expressed in most breast cancers and have been shown to stimulate the growth of breast cancer cells in the laboratory. "These findings may suggest that an insulin-related pathway of abdominal adiposity is involved in the etiology of premenopausal breast cancer," according to the authors.
Selected breast cancer studies
Effects of childhood body size on breast cancer tumour characteristics

Cite

Li J, Humphreys K, Eriksson L, Czene K, Liu J, Hall P. Effects of childhood body size on breast cancer tumour characteristics. Breast Cancer Research. Springer Science and Business Media LLC; 2010; 12

10.1186/bcr2564

The association of metabolic syndrome with triple-negative breast cancer

Cite

Maiti B, Kundranda MN, Spiro TP, Daw HA. The association of metabolic syndrome with triple-negative breast cancer. Breast Cancer Research and Treatment. Springer Science and Business Media LLC; 2009; 121:479-483

10.1007/s10549-009-0591-y

General and Abdominal Obesity and Survival among Young Women with Breast Cancer

Cite

Abrahamson PE, Gammon MD, Lund MJ, Flagg EW, Porter PL, Stevens J,

et al

. General and Abdominal Obesity and Survival among Young Women with Breast Cancer. Cancer Epidemiology Biomarkers & Prevention. American Association for Cancer Research (AACR); 2006; 15:1871-1877

10.1158/1055-9965.epi-06-0356