Favorable effects of pregnancy might be neutralized by propylparaben
Posted: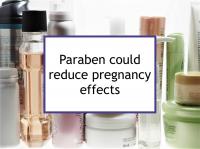 Paraben could reduce pregnancy BC effects
Parabens linked to increased breast cancer risk
Parabens are absorbed into circulation through the skin. In other words, parabens can penetrate human skin intact and be absorbed systemically. The most common parabens used in consumer products are methylparaben, ethylparaben, propylparaben, butylparaben and isobutylparaben. Despite some published claims that parabens have short half lives, they appear to be fairly stable molecules, which enables them to accumulate in breast tissue. Parabens were found in 99% of breast tissue samples of breast cancer patients in one study.
Latest research finds propylparaben alters pregnancy effects
The study referenced above was designed to investigate whether propylparaben can alter the protective effects of pregnancy against breast cancer development. The mammary gland is hormone sensitive, making it susceptible to endocrine disrupting chemicals during the period around pregnancy and involution (when the mammary gland undergoes extensive cell death and remodeling as it returns to the non-lactating state).
To conduct the study, the authors assessed the effects of various levels of daily propylparaben exposure (0, 20, 100, or 10,000 µg/kg) in pregnant BALB/c mice. Unexposed females who had never been pregnant were also evaluated for comparison. Mice mammary glands were removed five weeks after involution. The authors then identified and evaluated changes in hormone receptor expression, gene expression, cell morphology (structure, form and size), and number of immune cells associated with propylparaben exposure.
Selected breast cancer studies