Exclusive use of alternative medicine for breast cancer linked to sharply higher risk of death
Posted: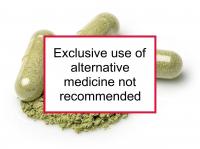 Exclusive use of alternative medicine not recommended
Some women begin with alternative medicine but switch to complementary medicine at some point in their breast cancer treatment. This typically results in treatment delays that are detrimental to outcomes. It is rare for women with breast cancer to reject all conventional cancer treatment from diagnosis onward. However, a new study has identified and reported on outcomes for cancer patients that used alternative medicine exclusively. Such choices normally resulted in shortened survival, especially for women with breast cancer, who were more than five times more likely to die.
Alternative medicine for breast cancer
Alternative medicine can take many forms. Some women design their breast cancer treatment regimens based on their own research. However, such women typically are guided and supported by alternative medicine practitioners. Others travel to alternative medicine treatment centers (often outside the U.S.) to receive therapies designed to cure them.
Latest research finds using alternative medicine shortens survival
The study referenced at the beginning of this news story was designed to investigate the outcomes of cancer patients using alternative medicine compared to patients treated with conventional Western medicine. The study was conducted by researchers at Yale School of Medicine and Yale Cancer Center. To conduct the study, the authors identified 281 patients who chose to use alternative medicine to treat nonmetastatic breast, prostate, lung, or colorectal cancer. These patients did not receive conventional cancer treatment such as surgery, chemotherapy, radiotherapy, and/or endocrine therapy. Each of the patients who elected alternative medicine was matched with two similar patients who were treated with conventional medicine.
Patients who chose alternative medicine were more likely to have breast or lung cancer, higher socioeconomic status, Intermountain West or Pacific location, stage II or III disease, and low comorbidity scores (few other serious health problems).
Use of alternative medicine was found to be associated with 2.5 times higher risk of death compared to use of conventional cancer treatment in the study group overall. When analyzed by cancer type, breast cancer patients who chose alternative medicine were found to have the highest risk of death (5.7 times), followed by colorectal cancer (4.6 times) and lung cancer (2.2 times) patients.
The authors conclude that, while rare, exclusive use of alternative medicine for curable cancer is associated with greater risk of death.
Selected breast cancer studies