Some African-American hair products linked to BC, especially in girls
Posted: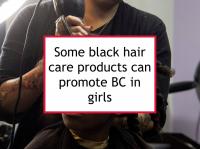 Some black hair care products can promote BC
The trust and sense of joint identity that some companies take pains to establish with their African-American customers does not always translate into trustworthy products.
Latest research outlines findings to date
The study referenced above was designed to review the available evidence linking hair products containing endocrine disruptors (chemicals that interfere with hormone systems in the body) with the risk of breast cancer in African-American women. To conduct the study, the authors reviewed academic studies concerning African-American girls or women that examined exposure to hair products and how such exposure was related to breast cancer risk. While studies typically are silent on the question of exactly which brands or specific products to avoid, the review developed the following conclusions:
African Americans tend to use more personal care products that contain hormones and placenta than whites, and can be exposed to them at a young age, including prenatal exposure through their mothers. In addition, penetration and absorption of the chemicals in hair products are increased with the use of heat, which often is used in their application.
One study reported that premature sexual characteristics developed in African-American girls as young as 14 months of age following the application of hair products containing hormonally active ingredients. These characteristics normally disappeared when product use ceased, although in some cases they persisted. Another study reported that the use of hair oil and perm was particularly associated with early puberty. Generally speaking, use of hair oil and perm, but not other products, has been linked to early puberty. One brand of root stimulator also was found to be significantly associated with higher breast density in one study. High breast density is itself a breast cancer risk factor.
Data from Boston University's Black Women's Health Study found no increased risk of breast cancer associated with hair relaxer use, although researchers did find a link to increased risk of uterine fibroids. The explanation appears to be, in part, that hair relaxers are washed out after a relatively short period, whereas products such as root stimulators and hair oils are often designed to be left on the hair and scalp, thereby increasing exposure.
Current regulations inadequately protect consumers from exposure to endocrine disrupting chemicals in hair care and other personal care products. It is difficult to avoid such exposures since labeling laws do not require that fragrance or "trade secret" ingredients to be listed in descending order of predominance. In fact, the ingredients in fragrances are not required to be listed at all. In addition, ingredient declarations are not required on the packaging of salon products. Therefore, both stylists and their customers will have difficulty determining the ingredients and chemicals in products designed for professional use.
Concern about the links between personal care products and breast cancer has existed for decades in the African-American community, but ability to take preventative action is blocked both by lack of information and by lack of action on the part of manufacturers of such products. Black Women for Wellness in Los Angeles has been examining the links between health disparities and products marketed primarily to African-American women and are collecting data in beauty salons. Researchers with the organization We Act and Touro College of Pharmacy have examined ethnic personal care products used in Manhattan and are advocating for laws to protect consumers from the harmful ingredients found. A study of chemicals found in African-American salons in California by Environmental Finance Center West found a variety of hair products containing chemicals tied to breast cancer. They also uncovered higher rates of cancer in salon staff.
While exposure to a single endocrine disrupting chemical has been shown to cause harm, contact with multiple such chemicals, which may have an additive effect, has not been assessed. Research is lacking concerning "the environmental reality of long-term low-dose exposure to complex mixtures" and the effects of interactions between chemicals and hormones naturally occurring in the body.
The authors point out that little relevant research has been conducted. Few studies were available to include in this review and large-scale or prospective studies were rare. Nevertheless, the authors conclude that use of products containing endocrine disrupting chemicals by African-American girls and women could contribute to the higher incidence of breast cancer in younger African Americans and help explain the increased lethality of the breast cancer that develops.
Selected breast cancer studies