Non-BRCA carriers in BRCA families may get BC at younger age
Posted: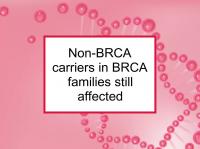 Non-BRCA carriers in BRCA families still affected
Women with a
family history
of breast cancer have a higher risk of breast cancer than the general population. They are also more likely to get breast cancer at a younger age. The degree of extra risk depends on whether breast cancer has been diagnosed among first degree relatives (parent, sibling or child), second degree relatives (e.g., grandparent, aunt/uncle, half-sibling), or multiple family members.
Having first degree relatives with breast cancer confers more risk than having second degree relatives. Having multiple family members with breast cancer further heightens risk.
Some familial breast cancer is caused by mutations in one or both of the tumor suppressor genes breast cancer susceptibility gene-1 (BRCA1) and breast cancer susceptibility gene-2 (BRCA2). These genes help make proteins that are used to repair damaged DNA. Harmful mutations in
BRCA1 or BRCA2
result in defects in this repair process, which cause mutation carriers to have relatively high lifetime risks of developing breast,
ovarian
and some other cancers. However, the majority of women with a family history of breast cancer are not BRCA mutation carriers.
This raises the question as to how much additional breast cancer risk non-BRCA mutation carriers in families with at least one confirmed carrier experience. Perhaps surprisingly, several studies have concluded that relatives of BRCA mutation carriers who do not themselves have a harmful BRCA mutation do not have increased risk of breast cancer compared to the general population. As a result, such women are normally advised to undergo normal mammogram or other breast cancer screening schedules. However, a new study has reported that the age at diagnosis of breast cancer in proven non-carriers in BRCA mutation families is younger than expected, especially in BRCA1 families. This has implications for breast cancer screening in such non-carriers.
Latest research finds surprisingly young age of diagnosis in non-BRCA carriers
The study referenced at the beginning of this news story was designed to investigate the age-related risks of breast and ovarian cancer among non-mutation carriers in BRCA families. The study included 464 proven non-carriers who had a first degree relative with a harmful BRCA mutation. A total of 17 cases of breast cancer (at an average age 47 years) and two cases of ovarian cancer (49 years) were diagnosed in the study participants.
The risk of breast cancer was found to be somewhat higher than that of the general population, especially among members of BRCA1 families, in which it was doubled. Non-carrier members of BRCA1 families who were diagnosed with breast cancer before age 50 had more family members with breast cancer, on average, than those diagnosed at later ages. The authors conclude that the age at diagnosis of breast cancer in non-carriers in BRCA mutation families is younger than expected, indicating an increased risk for non-carrier women in their 40s. This finding is most evident in BRCA1 families. If confirmed, this could affect the advice given concerning breast cancer screening to proven non-carriers between the age of 40 and 50 in BRCA families.
Selected breast cancer studies