Breast tissue of high risk women resembles nontumor tissue of patients
Posted: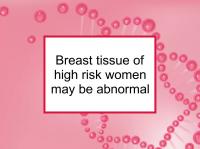 Breast tissue of high risk women may be abnormal
A new study has reported that gene expression in the breast tissue of women at high risk for breast cancer resembles that of the non-cancerous breast tissue from breast cancer patients. The authors compared non-tumor breast tissue of 18 breast cancer patients with breast tissue of 18 normal risk women undergoing breast reduction surgery and six high risk women undergoing prophylactic mastectomy.
A total of 86 genes were found to be differently expressed between the breast reduction surgery tissue samples and the other samples. It was found that the prophylactic mastectomy and samples from breast cancer patients clustered together, away from the breast reduction surgery samples from normal-risk women. The 86 genes that were expressed differently were implicated in many processes, including some known to be involved in breast cancer.
The authors conclude that the gene expression profile of cancer cases can be discerned in the breast tissue of cancer-free high-risk women. This suggests that this genetic profile is not an effect of the tumor, but may be a mark of increased risk and reveal the earliest genomic changes of breast cancer.
Selected breast cancer studies