Small triple negative tumors have worse prognosis than small ER+/PR+
Posted: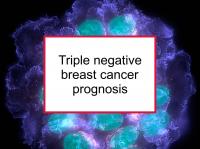 Small TN tumors have worse prognosis
A new study has reported that
triple negative
breast cancer with tumor size less than or equal to 1 cm has worse prognosis than similar-sized
hormone receptor positive
breast cancer. Triple negative is a subtype of breast cancer that is estrogen receptor negative (ER-), progesterone receptor negative (PR-), and
HER2
negative.
The study included 377 patients with primary operable breast cancer with tumor size 1 cm or smaller who were enrolled from 1995 to 2006 at two Taiwanese hospitals. Triple negative tumors were compared to tumors with any positive receptors (non-triple negative disease, including ER+/PR+, ER-/PR+, or ER+/PR- combined with either HER2+ or HER2-) with respect to disease-free survival and breast cancer-specific survival.
Study results
Triple negative breast cancer patients (including the subset with positive axillary lymph nodes) were not found to have poorer five-year disease-free survival or breast cancer-specific survival than non-triple negative breast cancer patients overall. However, in lymph node-negative patients, triple negative disease was associated with poorer five-year breast cancer-specific survival.
When compared only to the subset of patients with hormone receptor-positive (ER+/PR+) and HER2-negative disease, triple negative patients had poorer disease-free survival and breast cancer-specific survival. Positive lymph nodes were associated with recurrence and breast cancer-specific death.
The authors conclude that triple negative breast cancer is very likely an independent prognostic factor in small node-negative invasive breast cancer.
Selected breast cancer studies
Prognosis and Outcome of Small (≤1 cm), Node‐Negative Breast Cancer on the Basis of Hormonal and HER‐2 Status

Cite

Amar S, McCullough AE, Tan W, Geiger XJ, Boughey JC, McNeil RB,

et al

. Prognosis and Outcome of Small (≤1 cm), Node‐Negative Breast Cancer on the Basis of Hormonal and HER‐2 Status. The Oncologist. Wiley; 2010; 15:1043-1049

10.1634/theoncologist.2010-0036

Locoregional Recurrence in Patients With Triple-Negative Breast Cancer

Cite

Dragun AE, Pan J, Rai SN, Kruse B, Jain D. Locoregional Recurrence in Patients With Triple-Negative Breast Cancer. American Journal of Clinical Oncology. Ovid Technologies (Wolters Kluwer Health); 2011; 34:231-237

10.1097/coc.0b013e3181dea993

Presence of an in situ component is associated with reduced biological aggressiveness of size-matched invasive breast cancer

Cite

Wong H, Lau S, Yau T, Cheung P, Epstein RJ. Presence of an in situ component is associated with reduced biological aggressiveness of size-matched invasive breast cancer. British Journal of Cancer. Springer Science and Business Media LLC; 2010; 102:1391-1396

10.1038/sj.bjc.6605655