Significant improvements in chemo brain are typical within 3 years
Posted: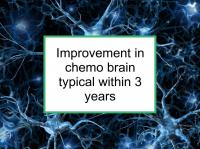 Improvement in chemo brain typical
Chemotherapy and, to some extent, radiotherapy and endocrine treatment (
tamoxifen
and
aromatase inhibitors
), are associated with reduced cognitive functioning ("
chemo brain
") in breast cancer patients. Chemotherapy has been shown to produce measurable brain damage and appears to produce cognitive impairment in part by disrupting the formation of new nerve cells (neurogenesis) in the brain.
Chemo brain generally improves greatly within a few years (perhaps as neurogenesis resumes), but can have lingering effects that persist for decades.
However, even in such cases, chemo brain does not appear to set the stage for Alzheimer's disease. In fact, cancer survivors are less likely to develop Alzheimer's disease than the general population, for reasons that appear to have a genetic basis but are not well understood. Now a new study has reported that chemo brain noticeably improves by three years after breast cancer diagnosis.
Latest research finds significant improvements in chemo brain within three years
The study referenced at the beginning of this news article was designed to examine changes in cognitive functioning between 18 months after breast cancer diagnosis and the three-year mark. The study included participants in the Shanghai Breast cancer survivor study. Cognitive function evaluations using a battery of cognitive function tests were completed for 1,300 survivors at 18 months post diagnosis and for 1,059 survivors at 36 months.
The authors found significant improvements at 36 months compared to 18 months after diagnosis in measures of attention and executive function, as well as measures of immediate memory and delayed memory. The improvements appeared only breast cancer survivors who had or were receiving treatments that included chemotherapy and/or tamoxifen.
The authors conclude that cognitive functioning, in particular immediate verbal episodic memory and delayed memory, significantly improved among breast cancer survivors between 18 and 36 months after diagnosis. In general, the presence of other illnesses (comorbidity) was associated with lower levels of improvements in cognitive functioning.
Please see our article on chemo brain for more information.
Selected breast cancer studies