Late recurrence of ER+ BC linked to primary tumor characteristics
Posted: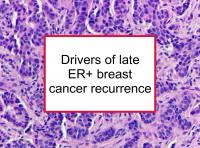 Drivers of late ER+ breast cancer recurrence
Risk of breast cancer recurrence remains for decades
As noted above, the risk of breast cancer relapse persists for many years. Late relapse is thought to be caused by dormant breast cancer cells that have found their way to the bone marrow. These tumor cells evaded eradication because they were not dividing at the time of treatment. One study found that the risk of recurrence between years five to 12 averages approximately 4% per year. Other studies have found that the rate of recurrence for early stage breast cancer after the 10-year mark is 1% to 2% overall. While rare, recurrences as long as 35 years after the initial breast cancer diagnosis have been reported.
Latest research links tumor characteristics to late recurrence
Selected breast cancer studies