Young women with family history are at higher risk of developing breast cancer in the other breast
Posted: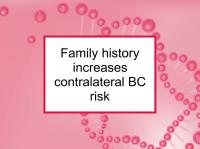 Familial increases contralateral BC risk
Asynchronous contralateral breast cancer
Not surprisingly, the prognosis is worse for contralateral breast cancer occurring within two years of the original tumor. In fact, the development contralateral breast cancer has been found to be associated with a greater risk of dying from breast cancer throughout a long period of follow up.
Latest research finds risk is higher for young age and significant family history
Family history of breast cancer was found to be associated with increased risk of contralateral breast cancer. The risk was relatively high among young women (under 45 years) who had first degree relatives (mother, sister, daughter) who were also diagnosed with breast cancer before age 45 (2.5 time higher than older women without a family history). The risk of contralateral breast cancer was highest among women with first degree relatives with bilateral disease, i.e., who were originally diagnosed in both breasts (3.6 times higher). In fact, these participants had risks of contralateral breast cancer similar to BRCA mutation carriers.
Women diagnosed with unilateral breast cancer under age 55 who had a first degree relative with contralateral breast cancer were found to have a 15.6% risk of contralateral breast cancer during the first 10 years after diagnosis. The authors conclude that the heightened risks of contralateral breast cancer described for some women in the study has important implications for the treatment of patients with breast cancer with family history of the disease.
Selected breast cancer studies