What are the characteristics of BC with low risk of recurrence?
Posted: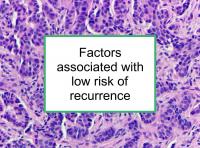 Factors associated with low risk of recurrence
Characteristics of low risk breast cancer
Risk of late relapse is highest for ER+ disease
Early detection of late breast cancer recurrences can confer a survival advantage. For example, it has been shown that survival is better when a recurrence is found by mammography or in women without symptoms compared to those with symptoms. Therefore, it is important for early stage breast cancer survivors to remain vigilant by continuing their relationships with their oncologists, undergoing regular mammograms or other diagnostic tests, and performing regular breast self-exams.
Latest research identifies low-risk tumor characteristics
The study referenced at the beginning of this news article was designed to identify the pathologic features of breast cancer with a low risk of recurrence. The study included 715 invasive breast cancer cases with tumors up to 5.0 cm in size. Study participants were divided into two risk categories: low-risk and moderate/high risk. The 79 tumors designated low risk were non-palpable (could not be felt by hand), lymph node negative, and detected only by mammographic screening. The remaining 636 tumors were classified as moderate/high risk.
Selected breast cancer studies