Resveratrol, genistein, & luteolin linked to worse 5-year BC survival
Posted: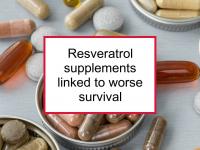 Resveratrol supplements linked to worse survival
Luteolin supplements
Resveratrol supplements
Genistein supplements
Latest research finds worse outcomes for higher levels of some phytoestrogens
The associations between circulating enterolactone and five-year survival were found to change over time, with 11% reduced risk of breast cancer-specific death at baseline and 14% reduced risk at the two-year mark for relatively high levels. The risk of death from any cause was reduced by 13% at baseline and 16% at three years after study intake (these results became weaker over time).
Long-term survivors whose blood levels of resveratrol, genistein, or luteolin increased between baseline and follow-up measurements had worse five-year survival. Women with increasing levels of resveratrol experienced a 19% increased risk of death. The increased risks of death were 17% for genistein and 96% for luteolin. Changes in blood levels of enterolactone between baseline and follow-up were not associated with prognosis, nor were changes in the ratio of enterolactone to genistein. The authors conclude that large long-term studies incorporating multiple phytoestrogen measurements are needed to understand the long-term prognostic effects of phytoestrogens in those with breast cancer.
Selected breast cancer studies