Residual disease can often be prevented with 2 mm clean margins
Posted: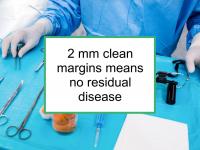 2 mm clean margins means no residual BC
A new study has reported that 98% of patients with invasive breast cancer who obtain clear
surgical margins
of at least 2 mm will not have residual disease in the breast. However, the picture is less clear for ductal carcinoma in situ (
DCIS
). The study was designed to determine the frequency of residual cancer those who undergo further surgery after
lumpectomy
because of close margins.
In addition, the associations between certain tumor-specific factors and close margins was investigated. The optimum width of disease-free margin around a tumor during lumpectomy has not been determined and guidelines followed vary.
The study included 305 breast cancer patients. Women undergoing additional surgery to obtain wider margins were evaluated for the presence of residual cancer. Fifty-three percent of the 305 patients underwent additional surgery to meet the 5-mm clean margin requirement.
When the initial cancer-free margin was at least 2 mm, the probability of finding residual disease upon re-excision was 2.4%. However, the probability of residual cancer was found to be higher for ductal carcinoma in situ (DCIS) and did not decline with increasing the free margin width among the women with DCIS. Large tumor size,
lobular
cancer type, vascular invasion and positive lymph nodes all were found to be associated with close margins.
The authors conclude that a cancer-free margin of 2 mm is adequate to minimize the possibility of residual disease in the case of invasive breast cancer. However, the equivalent free margin for DCIS remains unclear. Patients with large tumors and lobular breast cancer type should be advised at the time of first surgery that they are at higher risk of further excision and mastectomy.
Selected breast cancer studies