Pink Lady apple peel inhibits ER+/PR+ breast cancer growth
Posted: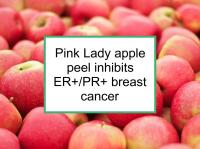 Pink Lady apple peel inhibits ER+/PR+ breast cancer
Whole organic apples with red or reddish peels are best
Latest research finds peel has greater chemopreventive effects than flesh
The study referenced at the beginning of this news story was designed to investigate the antioxidant and anticancer effects of flavonoids from Pink Lady Apples on human colon cancer (LoVo) and hormone receptor positive breast cancer cells (MCF-7). Pink Lady peel flavonoids were found to have greater antioxidant properties than flavonoids extracted from the flesh of the apples.
Both the peel and the flesh flavonoids were found to inhibit the growth of both colon and breast cancer cells. However the peel flavonoids were more effective. Scavenging ROS (reactive oxygen species) effects were also found to be significantly higher in peel flavonoids. The authors also determined that the generation of ROS was a vital mediator in flavonoid-induced cell apoptosis (programmed cell death). Peel flavonoids caused significantly higher levels of apoptosis than flesh flavonoids.
Selected breast cancer studies