Lumpectomy is not inferior to mastectomy for appropriately selected triple negative patients
Posted: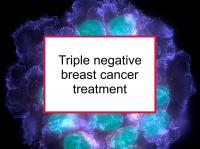 Triple negative breast cancer treatment
The study included 1,325 women with triple negative breast cancer who underwent either breast conserving therapy or mastectomy at the M.D. Anderson Cancer Center in Houston, Texas between 1980 and 2010. A total of 651 (49%) of the women received breast conserving treatment and the other 674 (51%) had mastectomies. The women were followed for a median of 62 months.
The women who underwent mastectomy had larger tumors, a higher incidence of lymphovascular invasion (invasion of the cancer cells into the blood vessels or lymphatic channels), and greater lymph node involvement than the women who received breast conserving treatment. In other words, women in the mastectomy group had worse prognostic indicators (however, the authors took this into account when performing the lumpectomy vs. mastectomy comparison). Locoregional recurrence occurred less frequently in the breast conserving group during follow up (170 (26%) of the breast conserving group compared to 203 (30%) of the mastectomy group).
The authors conclude that triple negative breast cancer should not be considered a contraindication for breast conservation.
Selected breast cancer studies