Levonorgestrel-releasing intrauterine devices increase the risk of breast cancer
Posted: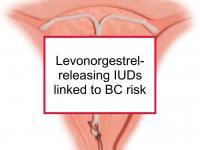 Levonorgestrel- releasing IUDs linked to BC risk
Teenage birth control pill use has also been shown to worsen the prognosis of premenopausal breast cancer.
While the lower-dose hormonal contraceptives available in recent years are designed to reduce the risks and side effects of such contraceptives, not all of the newer types are associated with reduced breast cancer risk. While use of contraceptive injections and implants have not been widely studied, one study reported a marked increase in breast cancer risk among women using subdermal contraceptive implants compared to those using oral or injected contraceptives.
Levonorgestrel intrauterine systems
Latest research finds use of LNG-IUS increases breast cancer risk
Selected breast cancer studies