High dietary fiber consumption linked to reduced BC risk
Posted: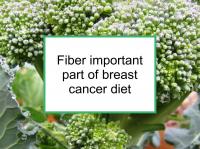 Fiber important part of breast cancer diet
Types of fiber
Latest research finds lower BC risk for high fiber diet
The meta-analysis referenced above was designed to investigate the association between dietary fiber intake and risk of breast cancer. To conduct the study, the authors searched the MEDLINE and Excerpta Medica dataBASE (EMBASE) databases through July 2019 for relevant prospective studies reporting on the association between fiber and new breast cancer cases. The meta-analysis included 17 cohort studies, two nested case‐control studies, and one clinical trial study. Relative risks were estimated by comparing the highest and lowest categories of fiber consumption.
Study results
High total fiber (soluble + insoluble) consumption was found to be associated with an 8% lower risk of breast cancer compared to low intake. Soluble fiber intake was found to be associated with lower risk of breast cancer (10%) than insoluble fiber (7%), for which the results were statistically weaker. Higher total fiber intake was also found to be associated with a lower risks of both premenopausal and postmenopausal breast cancers.
Selected breast cancer studies