Copper chelation may help prevent breast cancer recurrence
Posted: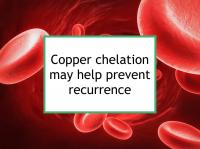 Copper chelation may prevent recurrence
While
copper
is a vital nutrient, high levels of copper in the blood have been linked to higher risk of breast cancer. In addition, tissue concentrations of copper can be greatly elevated in breast cancer. Copper has been shown to promote
angiogenesis
in existing cancers and appears to have a role in breast cancer cell migration and invasion.
Inducing copper deficiency have been shown to reduce tumor growth and angiogenesis in mouse models of HER2 overexpressing (
HER2+
) and inflammatory breast cancer (
IBC
). Now a new study has reported that reducing copper levels in breast cancer patients at high risk for recurrence may promote tumor dormancy and help prevent relapse.
Latest research finds reducing copper levels may prolong tumor dormancy
The phase 2 study referenced at the beginning of this news story was designed to investigate the effect of copper chelation on the level of circulating endothelial progenitor cells in breast cancer patients at high risk for recurrence. Bone marrow-derived endothelial progenitor cells are critical for metastatic progression since they have the ability to differentiate into cells comprising the lining of blood vessels. Tumors seeded in distant locations cannot grow beyond a tiny size without the establishment of new blood vessels. Copper chelation removes excess amounts of copper from the body.
The study enrolled 40 breast cancer patients without evidence of active disease in 2007. Most of the women had
stage III
or
stage IV
breast cancer; women with
triple negative
disease were included in the study at stage II. Study participants were treated orally for two years or until breast cancer relapse with 100 mg of tetrathiomolybdate (an anti-angiogenic copper chelator) to maintain ceruloplasmin below 17 mg/dl. Ceruloplasmin is a copper compound used to measure circulating copper levels.
Three-quarters of the women achieved the copper depletion target within a month: 91% of the triple-negative patients and 41% of the
luminal A
and
luminal B
patients. A significant reduction in endothelial progenitor cells was observed in the women who reached the copper depletion target, but not the others. The 10-month recurrence-free survival rate was 85.0% overall. Six of the study participants relapsed during the study period, of whom only one had maintained endothelial progenitor cells below her baseline level. Four of the study participants with a history of stage IV triple-negative breast cancer have remained disease free for between three and five and one-half years.
The most serious side effects of the treatment were all blood-related: neutropenia (low white blood cell count: 3.1% of cycles), febrile neutropenia (low white blood cell count accompanied by infection: 0.2%), and anemia (low red blood cell count: 0.2%). The authors conclude that tetrathiomolybdate is safe and may serve to promote tumor dormancy and ultimately prevent relapse by limiting the number of endothelial progenitor cells. The authors plan to launch a phase III clinical trial in the near future.
Please see our articles on what to eat by breast cancer type (e.g., triple negative, HER2+, IBC, hormone receptor positive, lobular breast cancer) for more information on diet and breast cancer.
Selected breast cancer studies